RELIABLE & PROFESSIONAL COMMERCIAL FLOOR CLEANING
ServiceMaster Clean brings 70+ years of experience, research and innovation in the commercial cleaning services industry. We are experts in cleaning and commercial floor restoration. We can clean all kinds of commercial and industrial buildings, like offices, hospitals, schools, and high-tech facilities.
Commercial hard-surface flooring is a variety of flooring materials often found in places like offices, stores, restaurants, and healthcare facilities. These flooring options include materials like vinyl, laminate, hardwood, ceramic tile, and concrete. Every type of flooring needs specific care to keep it in good condition and maintain its appearance.
Vinyl flooring, for example, is a popular choice due to its affordability, versatility, and ease of maintenance. To keep vinyl flooring looking its best, regular sweeping or vacuuming is necessary to remove dirt and debris. We recommend damp mopping with a mild detergent to remove any stubborn stains or spills. It is important to avoid using abrasive cleaners or excessive water, as these can damage the vinyl surface.
On the other hand, laminate flooring is known for its strength and its ability to resist scratches and stains. However, it is still important to take proper care of laminate flooring to maintain its appearance. For a thorough clean, use a mild cleaner with damp mop. It is crucial to avoid using excessive water or harsh chemicals, as these can cause the laminate to warp or discolour.
Hardwood flooring is a timeless and elegant choice for commercial spaces, but it requires special care to preserve its beauty. Regular sweeping or vacuuming is essential to remove dirt and grit that can scratch the surface. Cleaning hardwood floors necessitates the use of particular cleaning agents. It is important to avoid using excessive water or harsh cleaners, as these can damage the wood and its finish.
Ceramic tile floors are strong and easy to maintain, but they need regular care to stay shiny and smooth. Cleaning floors involves sweeping or vacuuming to remove dirt and debris, and mopping with mild detergent for deeper cleaning. It is important to avoid using abrasive cleaners or scrub brushes that can scratch the tile surface. Grout lines require regular cleaning and sealing to prevent staining and discolouration.
Concrete flooring is a versatile and durable option commonly used in commercial spaces. Regularly sweeping or vacuuming to remove dirt and debris, and mop with a mild cleaner for a thorough clean. It is important to avoid using harsh chemicals or abrasive cleaners that can damage the concrete surface. Additionally, a seal is necessary periodically for concrete floors to protect against stains and maintain their appearance.
Different types of commercial hard-surface flooring require different techniques and care. ServiceMaster of Hamilton/Wentworth & Brantford, a premier commercial floor cleaning company, can make a personalized cleaning plan for your facility's requirements. This plan will be tailor-made to fit your needs and budget. It doesn't matter what kind of floors you have, we can include any type of flooring in our cleaning plan.
ServiceMaster of Hamilton/Wentworth & Brantford uses cutting-edge products, equipment, and methods to protect and extend the life of your commercial flooring.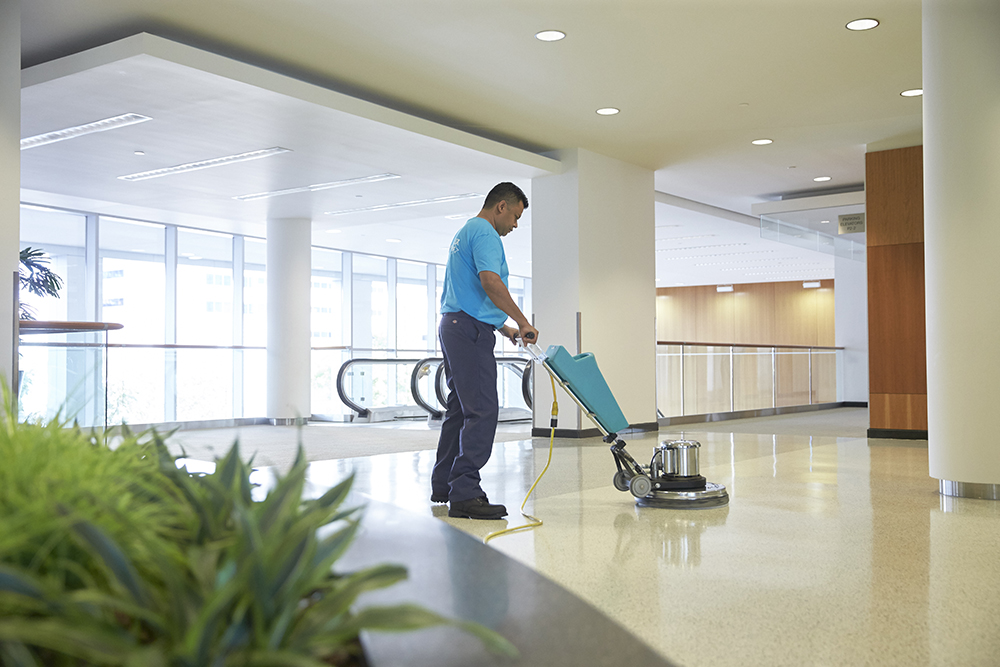 BENEFITS OF OUR HARD-SURFACE COMMERCIAL FLOOR CLEANING SERVICES
Helps provide clean, safe and healthy environment for employees, customers and guests
Improves slip resistance on hard-surface flooring to ensure safety
Utilizes the most current innovations in hard-surface floor care
Protects your commercial hard floor investment and avoids premature replacement
Offers advanced hard-surface floor restoration processes and products
Maintains your facility's best professional appearance
COMMERCIAL FLOOR CLEANING IMPROVES WORKPLACE HEALTH AND SAFETY
Keeping hard-surface floors clean and well-maintained improves the look of a business and makes the indoor environment safer. Clean and well-maintained commercial hard-surface floors provide a safer indoor environment with greater slip and fall protection. We use the right cleaning tools and techniques to keep your floors safe and prevent slipping in your business or facility.
Our professional commercial floor cleaning services include:
Cleaning and sanitizing
Scrubbing
Stripping and Waxing
Re-coating
Sealing
Tile & Grout Cleaning and Grout Colouring
High speed burnishing
Trust ServiceMaster of Hamilton/Wentworth & Brantford with maintaining, or even restoring your hard-surface floors, helping to ensure their durability and optimal appearance. Maximize your investment with a hard-surface commercial floor cleaning program from the experts at ServiceMaster Clean.
Did You Know?
Do you supply everything required?
We supply all the labour, equipment and materials required to carry out the tasks as would be outlined in our agreement with you. You may also exercise the option of having us provide various consumable goods for your facility such as toilet paper, paper towels, hand soap, etc. at their added cost.
Will the changeover to ServiceMaster of Hamilton/Wentworth & Brantford be smooth?
With 70 years of commercial cleaning experience, we have perfected the transition of service from your previous cleaning vendor. With thorough planning; we will make the changeover a seamless process. The only difference you will notice is the obvious improvement in service and standards.
Are all your employees background checked?
We recognize that security and trust are a paramount concern, so at ServiceMaster of Hamilton/Wentworth & Brantford we have taken an added step to help ensure compliance with customer needs by developing the Clearance Chek'd certification program to help preserve the peace of mind of our customers. Clearance Chek'd is a high-level Police and Criminal Record Check combined with Identity and Previous Employment Verification. Janitorial staff working on your cleaning program will have (ID verified & clean criminal record) clearance via this Program.